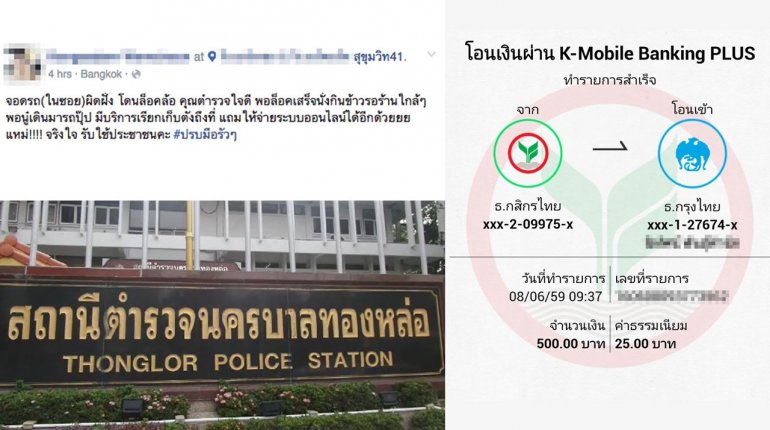 A great new way to pay fines – just transfer the money to the cop's private account
BANGKOK: — A Thong Lor traffic cop looks to have landed himself in seriously deep water – he let a woman whose wheels he had just clamped pay the resulting fine into his personal bank account.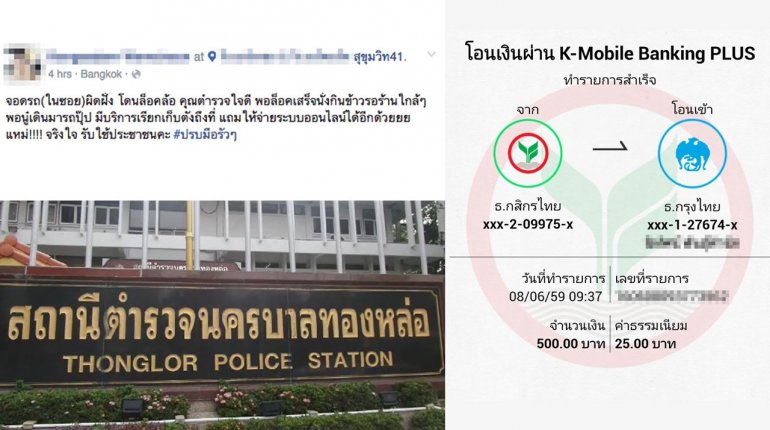 The officer concerned said the woman "begged him" to let her pay online to his private account so "he agreed" reported Thairath.
The lady was thrilled with the officer's sense of duty and public service – so much so that she not only posted the full story but even the payment slip on social media.
Now the deputy chief at the Sukhumvit area station wants a word with his subordinate….
The female motorist in question came back to her car that she had parked on the wrong side of the road to find it clamped. Telling the story online she related that the cop who had clamped her was sitting close by having some food and immediately made himself known to her. "The kind hearted officer said I could pay him there and then," she said, "and he even allowed me to transfer the money online to his account. What service!"
The transaction evidence showed the names and account numbers and the 500 baht fine – plus 25 baht transfer fee.
Social media comment and shares went barmy with some asking if you can really pay fines like this while others kindly suggested that maybe the lady in question had a deal with the officer to pay him and have him pass on the fine officially later.
Reporters tracked down the officer in question who was not named. He said: "The woman I ticketed said she had to rush to work and said please could I help her as she had no cash on her. She asked to transfer the money to me. I said it could cause problems later but she begged me to help her out so I decided to let her pay me to my private account."
"I am very sorry about all the trouble this has caused," he added.
Deputy Thong Lor station chief Wasu Cheuaphuthorn said: "The officer concerned has been called in. I cannot tell you the truth of the matter yet. But I will let you know of any developments."
Source: Thairath